Hotel Security Surveillance Camera System | CCTV Integrators
A hotel resort CCTV security surveillance camera system can help the staff monitor the guest staying on the property. It helps prevent theft of hotel property from occurring as well as improves hotel room security. A system can protect guests staying at the facility from having valuables stolen from their rooms.
The system can't monitor what happens inside rooms because that is a personal privacy issue. The cameras are installed in hallway corridors to monitor guests staying at the property. It helps staff keep track of who is going to rooms in each hallway corridor.  Cameras are installed in storage areas and can monitor the staff to make sure employees aren't stealing from the business.
Video Surveillance Systems for Businesses
A Digital DVR video recorder can be an important addition to the camera system. Hotel management can get updates through a smart device & have the ability to instantly monitor a camera anywhere on business property.
Most guests enjoy the added safety of a hotel security camera system. The technology is a great return investment for your business. The facility will have many return visitors to the property for safety reasons alone. It can increase hotel profits to allow the business to remain competitive in a growing market.
A high-quality CCTV security surveillance system is a necessity when you're operating a hospitality business. Hotels and Resorts require the technology for their insurance purposes along with the safety of everyone at the location.
Smart hotel security camera systems are the way to go in today's business world. Smart camera systems feature automated sensors and detectors. Motion-activated video is another reason why so many businesses use smart technology. If you're in need of a security system for your hotel give SVT a Call today  (504) 885-0069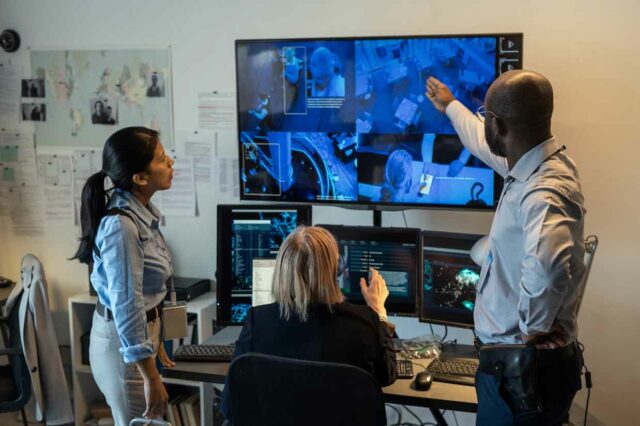 CCTV and Video Surveillance for Marketing
CCTV (Closed Circuit Television) and video surveillance have been used for marketing purposes for many years. Retailers and other businesses have used the technology to watch and study the buying habits of their customers.
CCTV systems can provide a wide variety of information about customers, such as the time of day they visit, the items they purchase, and how long they spend in the store. This information can be used to improve customer service, plan marketing campaigns, and determine what merchandise to stock.
Businesses can also use video surveillance to keep an eye on their employees. This can help to ensure that employees are not stealing or engaging in other illegal activities.
Although CCTV and video surveillance can be very useful for businesses, it is important to remember that the data collected by these systems should be used for marketing purposes only. The data should not be used to invade the privacy of customers or employees.
Security Video Technology (SVT) today.  We are a nationwide security solutions contractor and security surveillance integrator. Security Video Technology (SVT) is a nationwide security solutions contractor and security surveillance integrator. We are based out of the greater New Orleans area and service clients primarily along the Gulf Coast Region: Mobile, New Orleans, Baton Rouge, Lafayette, Gulf Port, and Beloxi.